Letters from Mars
Museum exhibit proposal
EXHIBIT DESIGN + STORY DEVELOPMENT + INFORMATION DESIGN + COPYWRITING + FICTION WRITING + TIME TRAVEL
Letters from Mars is a proposed museum exhibit that uses science fiction to encourage visitors to use their imagination when looking at historical documents. They are invited to examine excerpts from historical letters as if they are futuristic messages from Mars, becoming time travelers (a.k.a. historians) of the past and the future. The "messages" in the exhibit are presented as fragmented and incomplete so that visitors ask, "what's missing?" Then they can fill in the blanks to complete the message. I developed the exhibit concept and story, sourced content and wrote the script, designed the exhibit, and finally built an interactive prototype.
View full proposal book.
Concept and Story Development
Science fiction and history are parallel planes that meet in the Continuum: a place where the past and the future meet and become ambiguous. Excerpts from letters written in the Middle Ages are presented as radio messages that have been sent from Mars.
Three characters influence the exhibit's content and design. They are all time travelers of different periods and places, as well as collectors and creators. Petra is a (fictional) ham radio operator, Bradbury was a (real) science fiction author, and Petrach was a (real) scholar from the Middle Ages.
Visitor Experience
Exhibit Design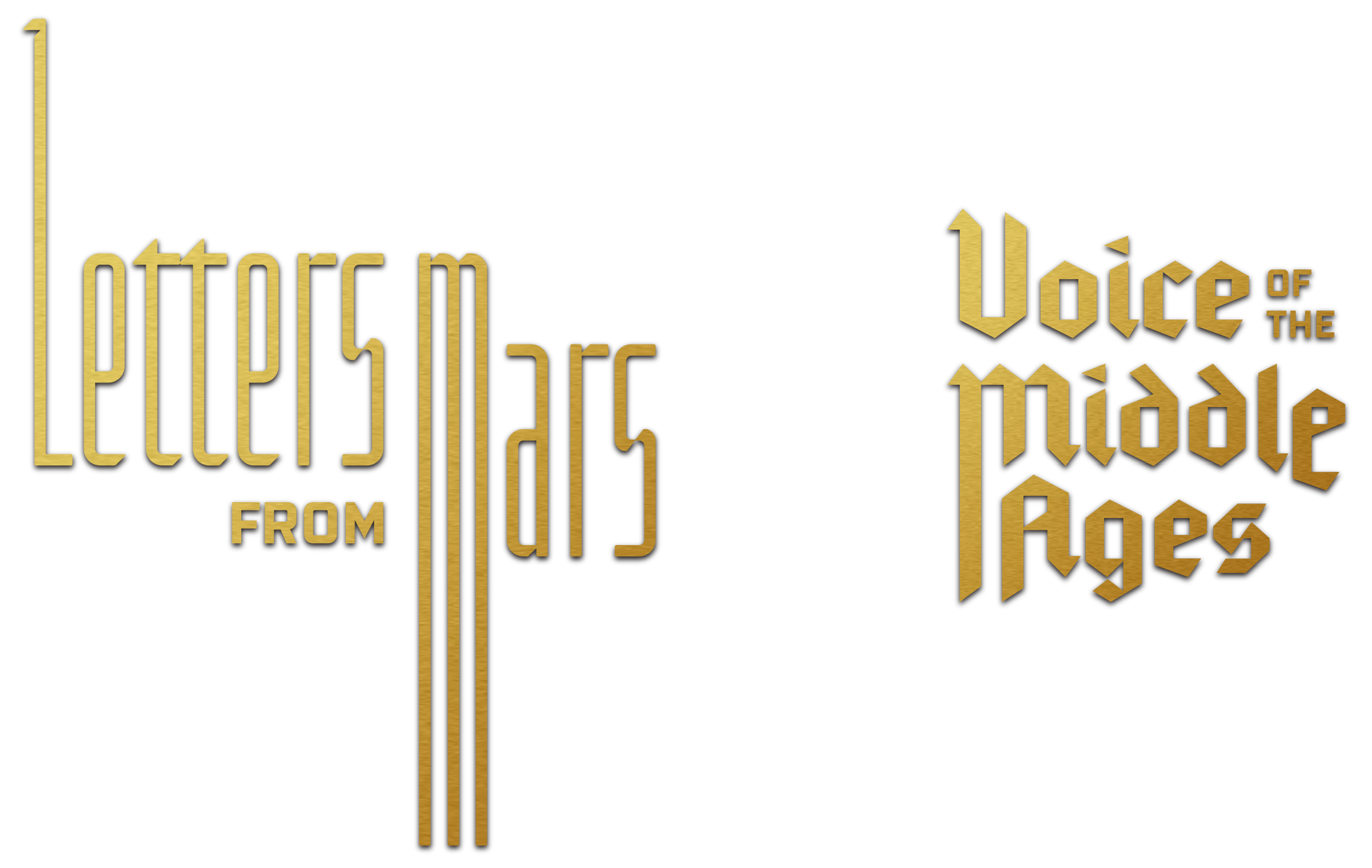 Exploration Modules
Each message is contained in an L-shaped module. This includes an interactive message activity, a related image, and an audio recording of the message. These three parts all relate to a theme that was relevant to both Petrach's concerns in the Middle Ages and to Bradbury's science fiction ideas in
The Martian Chronicles.
1. Fragmented Message

Visitors rotate blocks to "fill in the blanks" and change the meaning of the message.
I developed the "incomplete" messages by replacing select words from Petrarch's letters with alternative options that transformed the perceived time period, without losing the central theme of the message.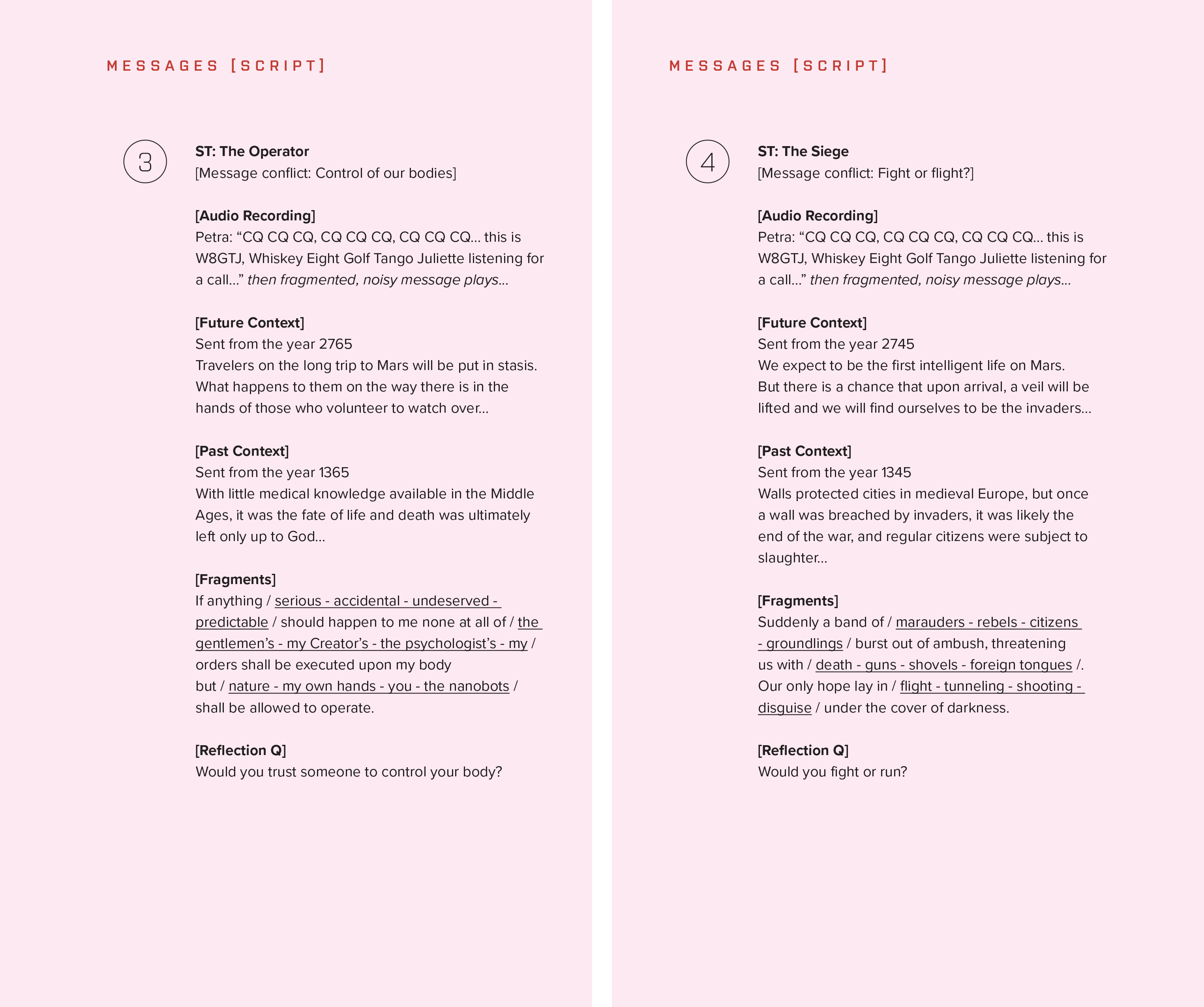 2. Fake Painting

A composite of two scanned images. The painting has a fake title and fake caption that underscore the related, timeless themes of both source images.

3. Audio Station

Visitors listen to the recorded transmission of the radio message.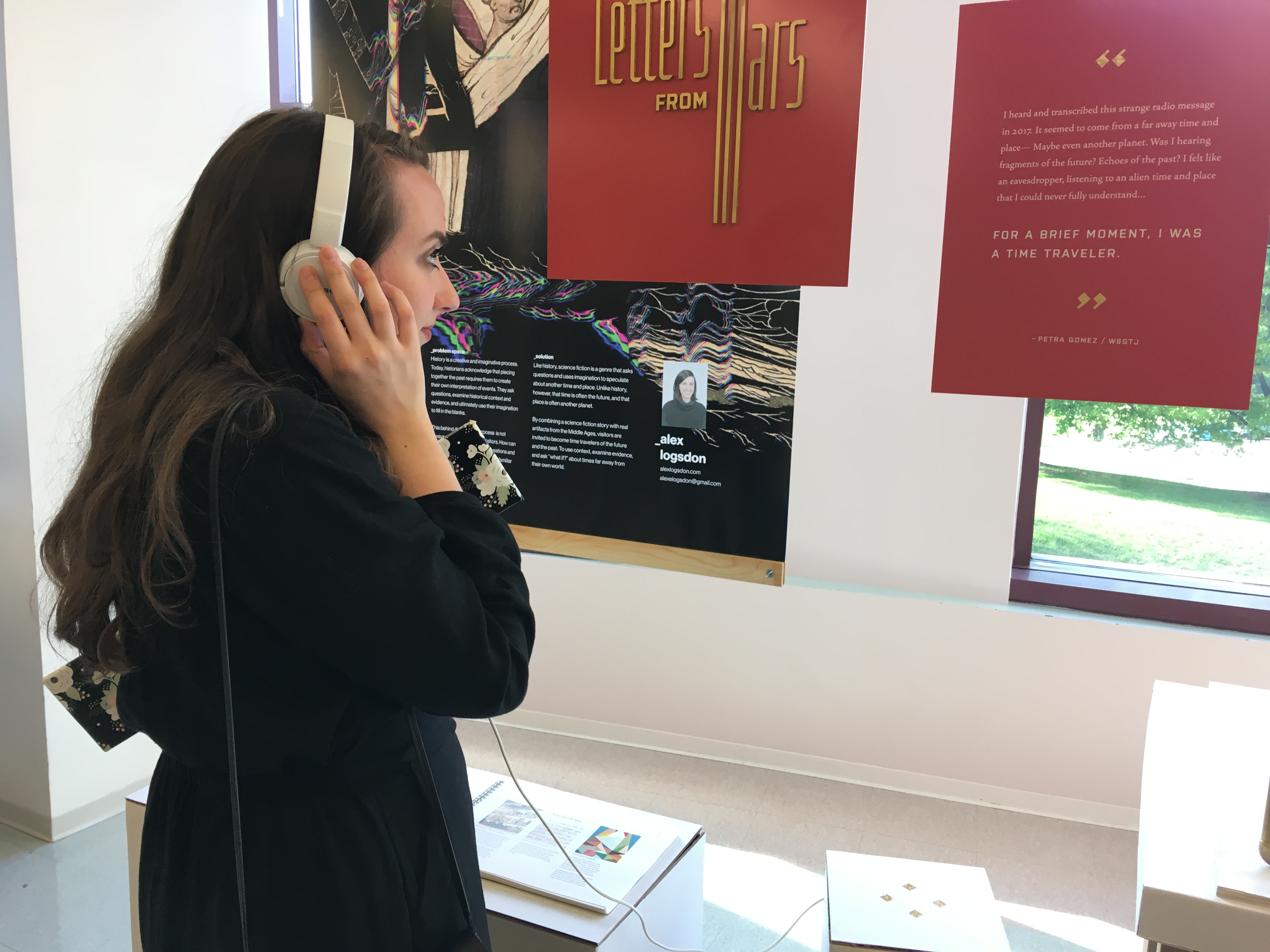 Petrarch's Letters
Visitors see reproductions of Petrarch's letters and read translations, putting the fragments that they had been exploring into context.